We don't just Test. We make your Products Successfully.
"By 2025, the global A/B testing software market is projected to be worth $1.08 billion."
No matter how much research you do, not every marketing campaign will get positive results.
That's why A/B testing is a fantastic method to calculate the best online promotional and marketing strategies for your business.
It can be used to test everything from website copy to sales emails. This allows you to find the best-performing version of your campaign before spending your entire budget on marketing materials that don't work. While A/B testing can be time-consuming, its advantages are enough to offset the time investment.
Overall, well-planned A/B tests can make a massive difference in the effectiveness of your marketing efforts. Narrowing down and combining the most effective elements of promotion can create a higher return on investment, lower risk of failure, and above all: a more robust marketing plan.
A/B testing is a marketing strategy that pits two different versions of a website, advert, email, popup, or landing page, against each other to see which is most effective.
For example, you might test two different popups (to see which drives more webinar sign-ups) or two different Google Ads (to see which gets more purchases). This provides critical insights on where and how to invest your marketing budget and gives you the courage to take potentially risky moves.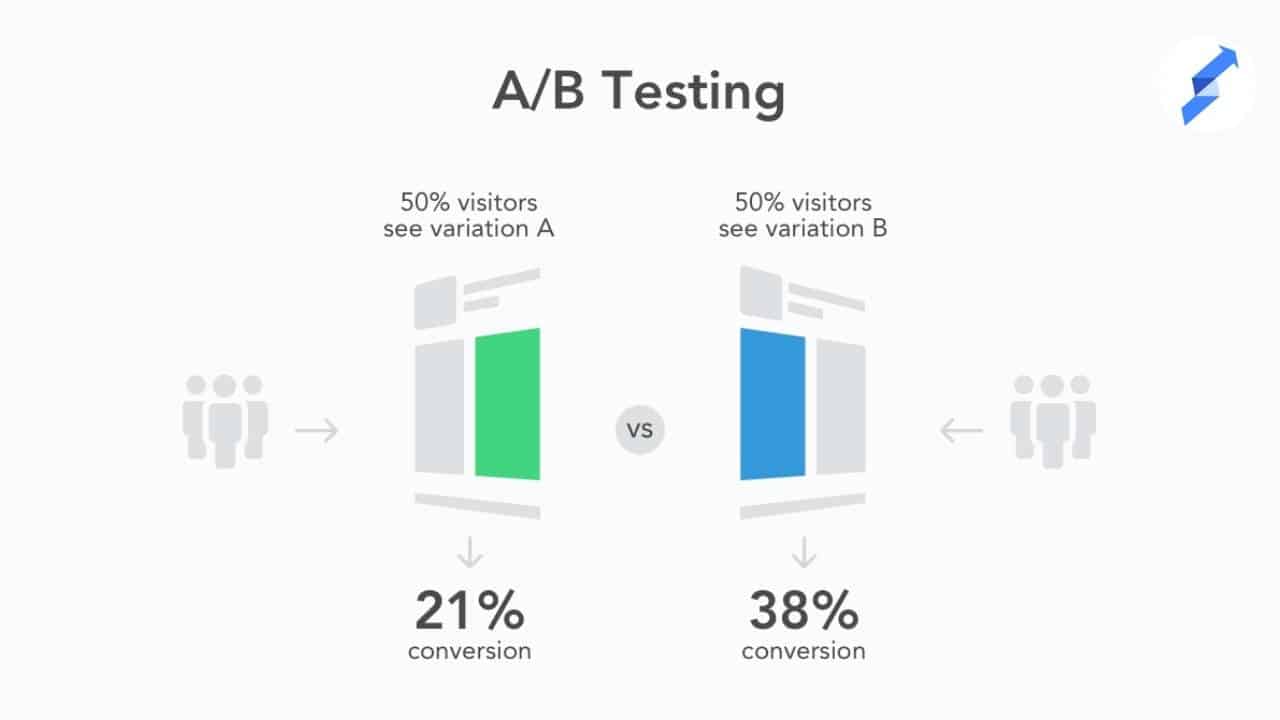 A/B testing has many benefits to a marketing team, depending on what it is you decide to test. Above all, though, these tests are valuable to a business because they're low in cost but high in reward.
Here are a few other benefits to running regular A/B tests on your website and marketing materials:
They help you understand your target audience: When you see what types of emails, headlines, and other features your audience responds to, you gain insight into who your audience is and what they want.


Higher conversion rates: A/B testing is the single most effective way to increase conversion rates. It knows what works and what doesn't and gives you actionable data that can help you streamline the conversion process.


Stay on top of changing trends: It's hard to predict what type of content, images, or other features people will respond to. Regularly testing helps you stay ahead of changing consumer behavior.


Reduce bounce rates: When site visitors see content they like, they stay on your site longer—testing to find the type of content and marketing materials your users like will help you create a better place — and one that users want to stay on.
Our Full Range of A/B Testing Services
Mobile/Browser Compatibility Testing
With over 300 mobile devices and 500 browser/OS combinations, we can certify all products for worldwide usage
Ensure your web-based product works appropriately, meets user expectations and offers perfect performance and security. Our team has experience with many browsers and tools for efficient testing
Providing manual testing services, our team aims to verify that all the product functions work perfectly as intended. We use efficient testing techniques to detect even unobvious bugs that can potentially harm the user experience.
The Rhomeson testers have extensive experience in the automation of the QA process. Automated testing can be the most profitable solution to expand testing coverage and achieve efficiency, quality, and cost reduction